Smoke & Water Damage, and Mold Remediation

What to do in case your carpet gets flooded:
Water damage to carpet is a common occurrence and, if handled properly and promptly, the problem can be minimized. The first thing you need to do is located the source of water, then act promptly to stop it!
Next, move furniture out of wet areas to prevent further damage. If a piece cannot be moved, place aluminum foil under legs to prevent staining of the carpet and absorption of the water into the item. If an item is moved and is wet, put pads under it to prevent staining in the new location.
Now, call for professional help. Find someone knowledgeable in flood clean-up.
What Should You Expect?
What procedures should you expect from your professional cleaner?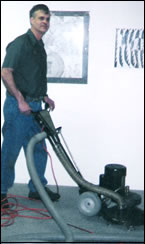 A disinfectant should be applied to carpet and wet areas to kill bacteria and odor and insure areas are safe to work in.
Extract as much water as possible from the carpet.
If the carpets are left alone to dry, the backing may rot. Drying the carpet is a must. Air movers and dehumidifiers made for drying carpet are available. If the carpet is stretched over a separate pad, the air mover is placed under the carpets to properly dry it from the backing up. Glued down carpet is a little different. If it is pulled up, the carpet can be damaged. It should be dried with the air mover placed on top of the carpet.
Wet pad must be inspected. Depending on the conditions, the pad may have to be removed to quickly dry the carpet.
When the carpet is totally dry, if it isn't damaged, it may be reinstalled.
Cleaning and deodorizing is recommended as a final procedure to revitalize the carpet.
In case of a sewer backup the carpet should be rinsed on the first service call. Then the situation should be evaluated to see if the carpet is salvageable. Priority consideration should be given to health.
Bob's Super Clean is certified in the Restoration of Water Damage. We have received the latest up-to-date training and information available to industry.
We also provide professional smoke damage cleanup and mold remediation. We are certified in these areas and have 26+ years of experience! Don't trust your home and belongings to anyone else!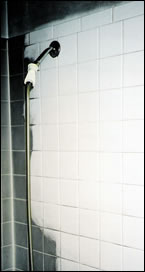 Before/After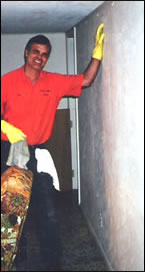 Smoke Cleanup