Professional Carpet & Upholstery Cleaning

The Importance Of Regular, Professional Carpet Cleaning
Many homeowners make the mistake of assuming their carpet and upholstery are clean just because they look clean. What they may not know is that, over time, even the most spotless looking carpets and upholstery collect germs, dust and soil below the surface. To increase the useful life of your carpets & upholstery, most carpet manufacturers recommend you have them cleaned regularly every 12-18 months - and that could be before you even recognize they're dirty.
Do It Yourself Or Call A Pro?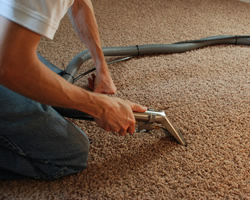 Some homeowners may choose to clean their own carpets and upholstery with either a heavy-duty vacuum, home steam cleaners or other portable cleaning units. These options, however, may not have the power necessary to remove deeply imbedded soil, dust, spots, and pet odors, and they may lack proper water extraction. Furthermore, portable units that use water may not achieve the temperature needed to properly care for your carpets and upholstery. The best alternative is to hire a professional carpet cleaning company that uses truck-mounted equipment and hot water extraction to remove the deep down dirt.
Our Process:
Heavy Duty Vacuum- Use of high-speed commercial vacuum for maximum removal of dry soil (When needed).
Chemical Preconditioning- Application of specifically formulated chemicals for maximum soil suspension.
Spot Removal- Special chemical agents will be used in attempts to remove persistent spots. Fabric safety will remain paramount in work of this type.
Hand Tooling- Baseboard and entry areas will be hand tooled in order to maximize results in these difficult to clean areas.
Carpets Repair- We will perform minor carpet repairs before cleaning at no extra charge. Major repairs will be accomplished under separate contracts.
Furniture Moving- The utmost care is exercised in moving furniture items during cleaning. Moisture resistant foil squares will be placed under all legs to avoid rust or furniture stains.
Heavy Duty Jet Extraction- Exclusive use of truck mounted steam cleaning equipment for soil removal.
Rotary Jet Extraction- Use of rotary jet extractor for removal of maximum soil in traffic and heavy soiled areas.
Scotchgard or Teflon- Use of SCOTCHGARD or TEFLON carpet protector which repels soil and staining materials and prolongs the carpet life.
Deodorizing- Use of a commercial chemical deodorant to maximize neutralization of carpet odor.
Disinfection- Use of a commercial disinfectant to kill odor causing germs and bacteria.
Raking or Nap Brushing- The use of a professional brush, comb or rake to aid in restoring the fluff and set of the carpet pile. Assures faster drying and gives the carpet a finished, detailed look.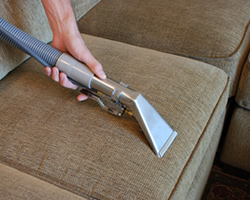 Your furniture is one of your biggest investments. So choosing who to do your upholstery cleaning is no small decision. We are specially trained in the care of all fabric types, even the most delicate, so you can feel comfortable in knowing we will choose the proper upholstery cleaning solution for your furniture. And using specially designed tools to gently clean folds and crevices, we will ensure the entire piece is entirely clean.
Our Process:
Complete Testing - You will be informed if we anticipate problems.
Thorough vacuuming to remove dry soil.
Solvent pretreatment to emulsify oils in arm & headrest areas.
Detailed pre-spotting as required.
Chemical preconditioning to suspend packed soil.
Jet Extraction - Gentle but thorough rinsing with maximum extraction.
Deodorizing and disinfecting to assure your protection.
SCOTCHGARD or Teflon fabric protector to repel staining materials and prolong life.
Post cleaning touch up and finishing.
The Importance of Protectors
Carpet manufacturers apply protectors at the factory to help your carpets stay cleaner longer. But, with foot traffic and vacuuming, this protection wears off over time. Having the protector reapplied helps slow down the formation of traffic patterns by allowing you to get more dirt out of your carpet with your vacuum cleaner. And it gives you extra time to clean up spills before they turn into stains.
Bob's Super Clean recommends Carpet and Upholstery Protector. Reapplying protector helps restore protective properties to your carpet, helping to extend its life and making it easier to care for.
Deodorizers
Leave Your House Smelling Fresh From The Bottom Up
Let's face it. When your carpet smells, your whole house does, too. But tough organic odors are no match for our Carpet Deodorizer, an enzyme-powered deodorizer designed to attack odor-causing organic sources. The enzymes in deodorizers eliminate odors from urine, feces, vomit, sour milk and more by actually digesting the organic matter that's causing the smell - leaving your carpet smelling fresh and clean again.
No Furniture?
Move it yourself and save. Save us time and we will save you money! Ask about our Open Carpet Discount.
Our company offers a 100% guarantee of satisfactory workmanship on all our services. The only reason we can make such an offer is because we believe in our service. Our equipment is unique, and our processes are unsurpassed. Additionally, we select only the type of personnel you yourself would invite into your home, and train them to be experts in their field. So relax, we gladly accept responsibility for you furnishings when we are a guest in your home. Our responsibility is to serve you well, always.
Call Today for Your Free Quote! (307) 672-6512